Porou─Ź├şme de┼íti a v├ştr n├ím m┼»┼że...
Za m─Ťs├şc od posledn├şho z├ípisu jsme si zahr├íli na mal├ę pouti ve K┼Ötin├ích, z├íbav─Ť v ┼Żernovn├şku, svatb─Ť v Lipovci a hodov├ę z├íbav─Ť v Kotvrdovic├şch. Zat├şmco z ─Źochu v R├íjci-Jest┼Öeb├ş jsme byli je┼ít─Ť p┼Öed jeho za─Ź├ítkem doslova odplaveni, Kotvrdovic├şm po─Źas├ş p┼Ö├ílo a nic krom─Ť p┼Ö├şjemn├ęho letn├şho v├ínku nekazilo n├ídhernou venkovn├ş hodovou z├íbavu s mezin├írodn├ş ├║─Źast├ş a p┼»lno─Źn├şm kulturn├şm programem!
V reperto├íru n├ím p┼Öibyl cover p├şsni─Źky With Or Without You od skupiny Nickelback, pecka M├Ż slzy neuvid├ş┼í od ┼ákwor┼» a diskofiln├ş fl├ík Ai Se Eu Te Pego od Michela Tel├│.

Fotky ze v┼íech z├íbav naleznete v galerii. Na vid─Ťnou, sly┼íenou, shledanou a v┼íechny ostatn├ş, kter├ę v├ís je┼ít─Ť napadnou, na n─Ťter├ę z na┼íich dal┼í├şch v├şkendov├Żch akc├ş - v ─îernovic├şch, Boskovic├şch a ┼Żernovn├şku.

Shtefix | 18.06.2012 15:07
"Napi┼í tam n─Ťjakou novinku, u┼ż je to trapn├Ż..."
Pravda, hod├ş se zm├şnit, ┼że jsme se posledn├ş dva m─Ťs├şce nefl├íkali - velikono─Źn├ş z├íbavy v Bo┼Öitov─Ť a B┼Öezov├ę, p├ílen├ş ─Źarod─Ťjnic v Blansku, pou┼ąov├í z├íbava v Kun┼ít├ít─Ť a klasick├Ż ─Źoch v Drnovic├şch. Usv─Ťd─Źuj├şc├ş d┼»kazy a spoustu obr├ízk┼» vhodn├Żch zejm├ęna pro vyzdoben├ş ploch va┼íich po─Ź├şta─Ź┼» naleznete samoz┼Öejm─Ť v galerii.
Za zm├şnku stoj├ş je┼ít─Ť aktualizovan├Ż seznam akc├ş, ve kter├ęm jsou nyn├ş zv├Żrazn─Ťny posledn├ş zaj├şmav├ę voln├ę term├şny tohoto l├ęta. Tak┼że volejte a pi┼íte, ale p┼Öedev┼í├şm cho─Ćte pa┼Öit! T┼Öeba zrovna dneska do K┼Ötin :)

Shtefix | 19.05.2012 13:53
Prvn├ş z├íbavy, posledn├ş ples
Plesem Gymn├ízia Blansko jsme, jako ostatn─Ť u┼ż n─Ťkolikr├ít, se v┼í├ş par├ídou ├║sp─Ť┼ín─Ť zakon─Źili dal┼í├ş plesovou sez├│nu. O p┼Öedtan─Źen├ş nebyla nouze, maturanti si odnesli absolventsk├ę ┼íerpy a ti ┼í┼ąastn─Ťj┼í├ş z V├ís uko┼Öistili i n─Ťjakou tu v├Żhru z tradi─Źn─Ť bohat├ę tomboly. Kv┼»li takto rozmanit├ęmu programu se bohu┼żel nedostalo na v┼íechna hudebn├ş p┼Ö├ín├ş t─Ťch, kdo se odv├í┼żili zaj├şt a┼ż do muzikantsk├ę ┼íatny - za to se up┼Ö├şmn─Ť omlouv├íme, snad to vyjde n─Ťkdy p┼Ö├ş┼ít─Ť...
Te─Ć ov┼íem n─Ťjak├í pozitiva. D├şky ├║sil├ş ─Źlen┼» kapely, jejich rodinn├Żch p┼Ö├şslu┼ín├şk┼» a n├íhodn├Żch kolemjdouc├şch se poda┼Öilo nashrom├í┼żdit kr├ísn├Ż fotoreport v na┼í├ş galerii, v galerii Davida Duonga, a b─Ťhem t├Żdne se ur─Źit─Ť je┼ít─Ť n─Ťco vyroj├ş. Na hostuj├şc├ş kapelu Gymbeat a n─Ťkolik na┼íich song┼» m┼»┼żete mrknout na v├şcem├ęn─Ť kapeln├şm Youtube kan├ílu. Dodate─Źn─Ť vkl├íd├íme je┼ít─Ť z├íznam p┼Öedtan─Źen├ş, kter├ę maj├ş na sv─Ťdom├ş leto┼ín├ş ─Źtvr┼ą├íci :)

Zp─Ťtn─Ť je┼ít─Ť zm├şn├şme, ┼że p┼Öedchoz├ş v├şkendy jsme odehr├íli dv─Ť tane─Źn├ş z├íbavy - na Obo┼Öe a v Bo┼Öitov─Ť. Po jednov├şkendov├ę pauze se na V├ís budeme t─Ť┼íit na velikono─Źn├şch z├íbav├ích v B┼Öezov├ę a v Bo┼Öitov─Ť.
Shtefix | 25.03.2012 17:15
Pozor, pozor!
Ani ne den po tom, co se tu mezi z├íplavou informac├ş objevila i zm├şnka o v├şkendu, kdy se hodl├íme intenzivn─Ť v─Ťnovat odpo─Źinku, je v┼íechno jinak!
Ti z v├ís, kdo pl├ínovali nav┼ít├şvit tuto sobotu ─Źoch v Obo┼Öe, mohou zaj├ísat - a─Źkoliv kapela Demonium musela ze zdravotn├şch d┼»vod┼» dvou ─Źlen┼» z├íbavu od┼Ö├şct, PROROCK pom┼»┼że, kde m┼»┼że... tak┼że navid─Ťnou tuhle sobotu v 9 hodin v Obo┼Öe :)

Shtefix | 07.03.2012 23:26
Nepokradeš
Od posledn├şho z├íznamu jsme odehr├íli ─Źty┼Öi dal┼í├ş akce plesov├ęho ra┼żen├ş a unik├ítn├ş ma┼íkarn├ş tane─Źn├ş z├íbavu s tombolou :)
Za vzpom├şnku rozhodn─Ť stoj├ş proch├ízka no─Źn├şm Brnem spojen├í s obstar├ív├ín├şm potravy a ples Jun├íka p┼Ö├şmo v Blansku n├ísleduj├şc├ş den. D├íle u┼ż jen ve stru─Źnosti: Lip┼»vka, Ra┼íov a zm├şn─Ťn├Ż ma┼íkarn├ş ┼áebetov.
Mo┼żn├í trochu odv├í┼żn├Ż nadpis se vztahuje k ├║sm─Ťvn├ę kr├íde┼żi propisky v Ra┼íov─Ť a naprosto ne├║sm─Ťvn├ęmu pokusu o odcizen├ş kapeln├şho odposlechu p┼Öi balen├ş apar├ítu po z├íbav─Ť v ┼áebetov─Ť. Moc p┼Ö├şjemn├ę hodinov├ę ─Źek├ín├ş na p┼Ö├şjezd policie v m├şnus p─Ťti stupn├şch...
P┼Ö├ş┼ít├ş v├şkend si cel├ę na┼íe seskupen├ş u┼żije zaslou┼żen├Ż odpo─Źinek. O t├Żden pozd─Ťji se na v├ís v┼íechny t─Ť┼í├şme na leto┼ín├ş prvn├ş regul├ęrn├ş tane─Źn├ş z├íbav─Ť v Bo┼Öitov─Ť! A n├ísleduj├şc├ş v├şkend n├ís ─Źek├í dozvuk a pomysln├Ż vrchol leto┼ín├ş plesov├ę sez├│ny v jednom - ples Gymn├ízia Blansko.
A m├ílem bych zapomn─Ťl - fotky ze v┼íech akc├ş jsou samoz┼Öejm─Ť u┼ż d├ívno v galeri :)

Shtefix | 06.03.2012 16:07
Sebranice u Poli─Źky, Lysice
I z obou ples┼» uplynul├ęho v├şkendu jsme se vraceli dom┼» pozd─Ť a plni skv─Ťl├Żch z├í┼żitk┼». Na obou akc├şch byla velk├í tombola a na divadelnick├ęm plese v Lysic├şch tradi─Źn─Ť vtipn├í sc├ęnka.
V Sebranic├şch jsme bohu┼żel m─Ťli cel├Ż ve─Źer p┼Ö├şli┼í pr├íce s konzumac├ş v┼íeho, co n├ím nosili, a to se podepsalo na chud┼í├şm fotoreportu. Galerie z Lysic je u┼ż v┼íak obstojn├í.

P┼Ö├ş┼ít├ş v├şkend si zahrajeme v Brn─Ť na plese gymn├ízia INTEGRA a potom na tak┼Ö├şkaj├şc dom├íc├ş ┼ítaci - v Blansku na plese Jun├íka. Nelze dodat v├şc, ne┼ż ┼że se u┼ż te─Ć t─Ť┼í├şme :)

Shtefix | 13.02.2012 14:30
Vyso─Źany
Ani letos se to neobejde bez ma┼íkarn├şch b├íl┼». Prvn├ş byl tento v├şkend ve Vyso─Źanech, dal┼í├ş n├ís ─Źek├í za necel├Ż m─Ťs├şc v ┼áebetov─Ť. N─Ťkte┼Ö├ş ─Źlenov├ę skupiny nev├íhali vypl├íznout polovinu g├í┼że za kost├Żm, v─Ťt┼íina t─Ťch zbyl├Żch svoji v├Żplatu alespo┼ł poctiv─Ť odevzdala na baru - bavili jsme se prost─Ť n├íramn─Ť a douf├íme, ┼że vy taky!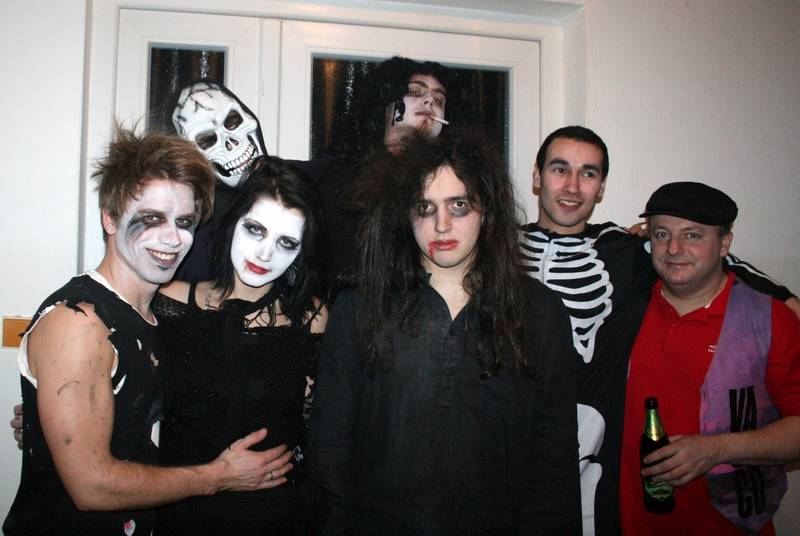 Tolik ochutn├ívka, zbytek jako v┼żdy v galerii.

Shtefix | 06.02.2012 01:37
Drnovice
Hasi─Źsk├Ż ples v Drnovic├şch byl zat├şm asi nejvype─Źen─Ťj┼í├şm ve─Ź├şrkem leto┼ín├ş plesov├ę sez├│ny. Nen├ş divu, ┼że jsme prodlu┼żovali, kdy┼ż byl parket i ve dv─Ť hodiny pln├Ż. Dodate─Źn─Ť jsme se shodli tak├ę na tom, ┼że tato akce vyhr├íla neofici├íln├ş cenu o nejp┼Öita┼żliv─Ťj┼í├ş ┼żenskou polovinu n├ív┼ít─Ťvnictva - v galerii m┼»┼żete posoudit sami...
Shtefix | 30.01.2012 11:08
Sloup, Ostrov
Dal┼í├ş skv─Ťl├Ż v├şkend plesov├ę sez├│ny je za n├ími...
Na obou akc├şch se n├ím moc l├şbilo a zp─Ťtn─Ť d─Ťkujeme jak za skv─Ťl├ę z├ízem├ş ze strany po┼Öadatel┼», tak za spoustu bav├şc├şch se n├ív┼ít─Ťvn├şk┼». Doufejme, ┼że se i n├ísleduj├şc├ş akce ponesou v tomto duchu :)
Nejen na ├║┼żasn├í p┼Öedtan─Źen├ş m┼»┼żete zavzpom├şnat ve fotogaleri├şch ze Sloupa a z Ostrova.
Krom toho ji┼ż najdete na str├ínce Akce rozpis na┼íeho hran├ş do konce l├ęta - pro skaln├ş fanou┼íky inspirace, kam na n├ís zaj├şt, a pro po┼Öadatele mo┼żnost zarezervovat si n─Ťkter├Ż z posledn├şch voln├Żch term├şn┼»...
Shtefix | 24.01.2012 13:06
Lomnice u Tišnova
Plesovou sez├│nu jsme ├║sp─Ť┼ín─Ť zah├íjili reprezenta─Źn├şm plesem ─îSSD v Lomnici u Ti┼ínova. T─Ť┼íili jsme se hodn─Ť, do┼ílo i na ┼íampa┼łsk├ę.
Jak u┼ż je na t├ęto akci zvykem, krom─Ť bohat├ę tomboly a klasick├Żch p┼Öedtan─Źen├ş se mohli n├ív┼ít─Ťvn├şci t─Ť┼íit i na hosta, kter├Żm letos nebyl nikdo jin├Ż, ne┼ż zp├şvaj├şc├ş t─Ťlocvik├í┼Ö Martin Maxa! P┼Öijel s n├şm tak├ę finalista jedn├ę ze s├ęri├ş superstar Michal Hud─Źek, kter├Ż se obstojn─Ť vypo┼Ö├ídal s technick├Żmi probl├ęmy - klobouk dol┼». Fotky se pr├ív─Ť nahr├ívaj├ş do galerie a my u┼ż za─Ź├şn├íme tipovat, na jak├ęho hosta se m┼»┼żeme t─Ť┼íit p┼Ö├şst├ş rok...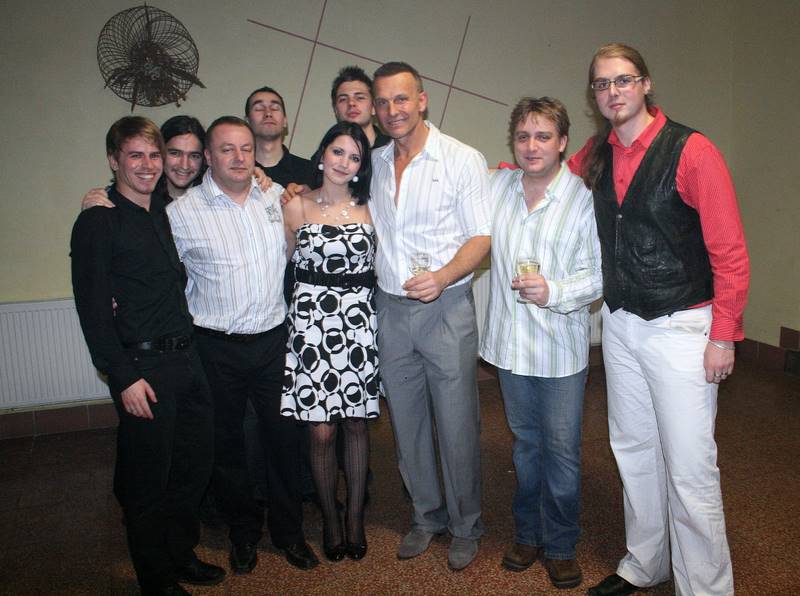 Shtefix | 08.01.2012 16:02