Sebranice u Poli─Źky, Lysice
I z obou ples┼» uplynul├ęho v├şkendu jsme se vraceli dom┼» pozd─Ť a plni skv─Ťl├Żch z├í┼żitk┼». Na obou akc├şch byla velk├í tombola a na divadelnick├ęm plese v Lysic├şch tradi─Źn─Ť vtipn├í sc├ęnka.
V Sebranic├şch jsme bohu┼żel m─Ťli cel├Ż ve─Źer p┼Ö├şli┼í pr├íce s konzumac├ş v┼íeho, co n├ím nosili, a to se podepsalo na chud┼í├şm fotoreportu. Galerie z Lysic je u┼ż v┼íak obstojn├í.

P┼Ö├ş┼ít├ş v├şkend si zahrajeme v Brn─Ť na plese gymn├ízia INTEGRA a potom na tak┼Ö├şkaj├şc dom├íc├ş ┼ítaci - v Blansku na plese Jun├íka. Nelze dodat v├şc, ne┼ż ┼że se u┼ż te─Ć t─Ť┼í├şme :)

Shtefix | 13.02.2012 14:30
Vyso─Źany
Ani letos se to neobejde bez ma┼íkarn├şch b├íl┼». Prvn├ş byl tento v├şkend ve Vyso─Źanech, dal┼í├ş n├ís ─Źek├í za necel├Ż m─Ťs├şc v ┼áebetov─Ť. N─Ťkte┼Ö├ş ─Źlenov├ę skupiny nev├íhali vypl├íznout polovinu g├í┼że za kost├Żm, v─Ťt┼íina t─Ťch zbyl├Żch svoji v├Żplatu alespo┼ł poctiv─Ť odevzdala na baru - bavili jsme se prost─Ť n├íramn─Ť a douf├íme, ┼że vy taky!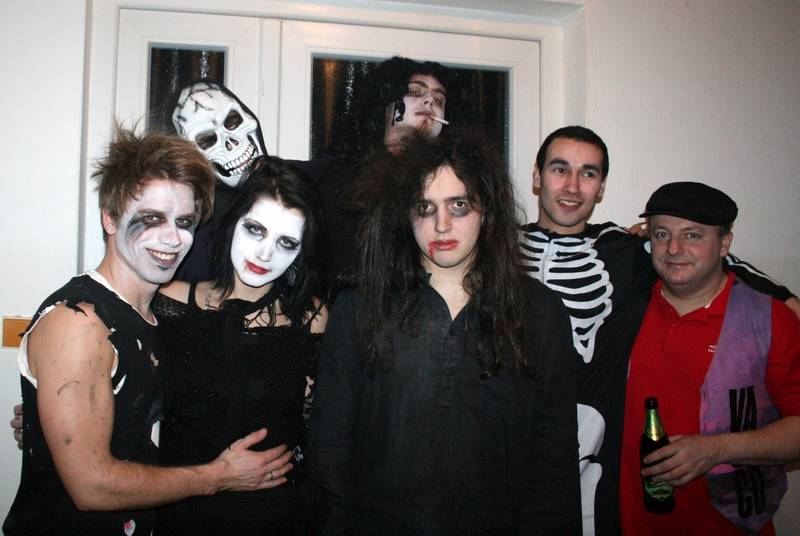 Tolik ochutn├ívka, zbytek jako v┼żdy v galerii.

Shtefix | 06.02.2012 01:37
Drnovice
Hasi─Źsk├Ż ples v Drnovic├şch byl zat├şm asi nejvype─Źen─Ťj┼í├şm ve─Ź├şrkem leto┼ín├ş plesov├ę sez├│ny. Nen├ş divu, ┼że jsme prodlu┼żovali, kdy┼ż byl parket i ve dv─Ť hodiny pln├Ż. Dodate─Źn─Ť jsme se shodli tak├ę na tom, ┼że tato akce vyhr├íla neofici├íln├ş cenu o nejp┼Öita┼żliv─Ťj┼í├ş ┼żenskou polovinu n├ív┼ít─Ťvnictva - v galerii m┼»┼żete posoudit sami...
Shtefix | 30.01.2012 11:08
Sloup, Ostrov
Dal┼í├ş skv─Ťl├Ż v├şkend plesov├ę sez├│ny je za n├ími...
Na obou akc├şch se n├ím moc l├şbilo a zp─Ťtn─Ť d─Ťkujeme jak za skv─Ťl├ę z├ízem├ş ze strany po┼Öadatel┼», tak za spoustu bav├şc├şch se n├ív┼ít─Ťvn├şk┼». Doufejme, ┼że se i n├ísleduj├şc├ş akce ponesou v tomto duchu :)
Nejen na ├║┼żasn├í p┼Öedtan─Źen├ş m┼»┼żete zavzpom├şnat ve fotogaleri├şch ze Sloupa a z Ostrova.
Krom toho ji┼ż najdete na str├ínce Akce rozpis na┼íeho hran├ş do konce l├ęta - pro skaln├ş fanou┼íky inspirace, kam na n├ís zaj├şt, a pro po┼Öadatele mo┼żnost zarezervovat si n─Ťkter├Ż z posledn├şch voln├Żch term├şn┼»...
Shtefix | 24.01.2012 13:06
Lomnice u Tišnova
Plesovou sez├│nu jsme ├║sp─Ť┼ín─Ť zah├íjili reprezenta─Źn├şm plesem ─îSSD v Lomnici u Ti┼ínova. T─Ť┼íili jsme se hodn─Ť, do┼ílo i na ┼íampa┼łsk├ę.
Jak u┼ż je na t├ęto akci zvykem, krom─Ť bohat├ę tomboly a klasick├Żch p┼Öedtan─Źen├ş se mohli n├ív┼ít─Ťvn├şci t─Ť┼íit i na hosta, kter├Żm letos nebyl nikdo jin├Ż, ne┼ż zp├şvaj├şc├ş t─Ťlocvik├í┼Ö Martin Maxa! P┼Öijel s n├şm tak├ę finalista jedn├ę ze s├ęri├ş superstar Michal Hud─Źek, kter├Ż se obstojn─Ť vypo┼Ö├ídal s technick├Żmi probl├ęmy - klobouk dol┼». Fotky se pr├ív─Ť nahr├ívaj├ş do galerie a my u┼ż za─Ź├şn├íme tipovat, na jak├ęho hosta se m┼»┼żeme t─Ť┼íit p┼Ö├şst├ş rok...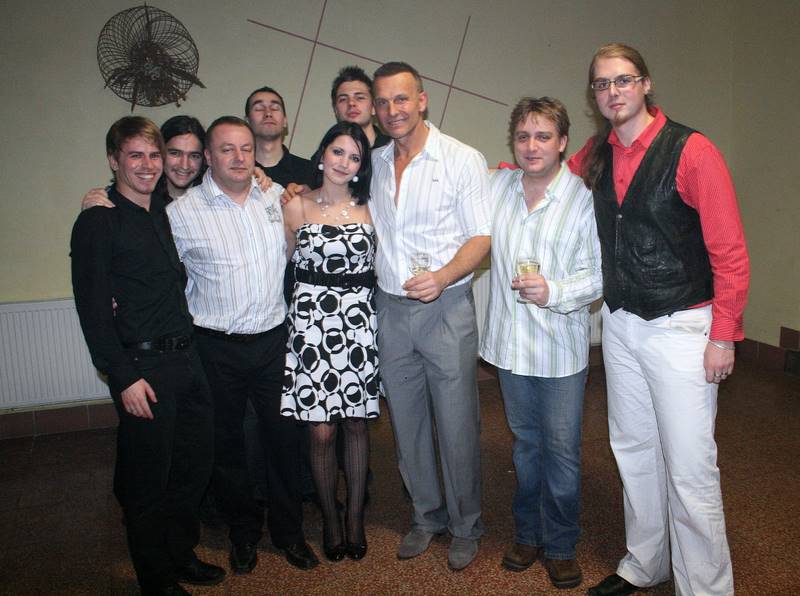 Shtefix | 08.01.2012 16:02
Plesov├í sez├│na za dv─Ť┼Ömi
... a my nelen├şme, piln─Ť zkou┼í├şme a opra┼íujeme plesov├Ż reperto├ír. S nov├Żm zp─Ťv├íkem se do na┼íeho playlistu vr├ítila staronov├í pecka Dnes od Tublatanky a Sting┼»v song Every Breath You Take.
Na posledn├ş ┼ítaci jsme vyu┼żili luxusn├ş kulisu a kapeln├ş PFko je na sv─Ťt─Ť!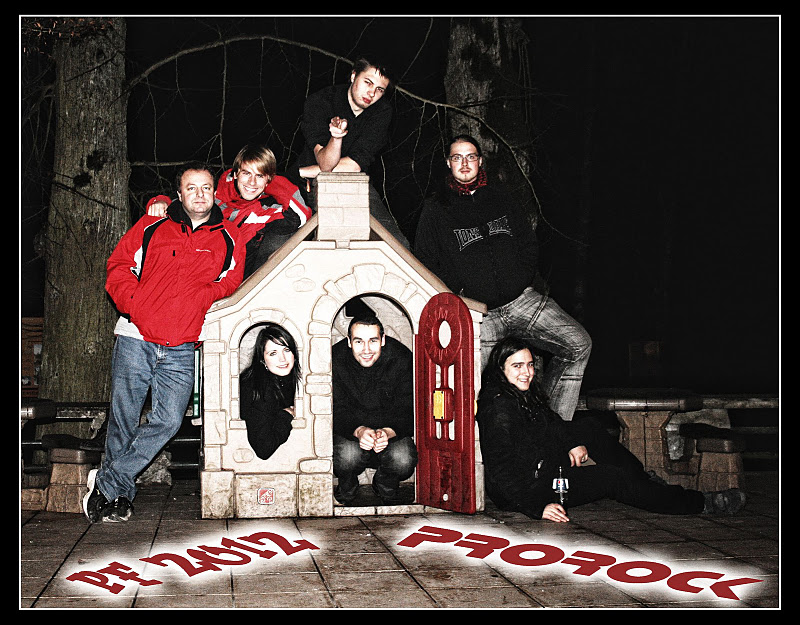 Shtefix | 29.12.2011 20:39
Trh├ín├ş rekord┼»
Nadpis p┼Ö├şsp─Ťvku se vztahuje k firemn├şmu ve─Ź├şku spole─Źnosti Gummi Print, kter├Ż jsme odehr├íli na neuv─Ť┼Öiteln─Ť mal├ęm improvizovan├ęm p├│diu v hotelu Skaln├ş ml├Żn. Skromnou ├║─Źast n├ím poslucha─Źi vynahradili sv├Żm neskute─Źn├Żm tane─Źn├şm a p─Ťveck├Żm ├║sil├şm. Zp─Ťtn─Ť d─Ťkujeme za naprosto luxusn├ş ve─Źe┼Öi...
A─Źkoliv jsme v posledn├şch t├Żdnech m─Ťli akc├ş poskrovnu, na┼íeho kytaristu a novope─Źen├ęho zp─Ťv├íka jste mohli n─Ťkolikr├ít zahl├ędnout a zaslechnout, jak vypom├íhaj├ş koleg┼»m ze skupiny Medium.
Na z├ív─Ťr bychom V├ís cht─Ťli v┼íechny pozvat na pomikul├í┼ískou tane─Źn├ş z├íbavu do Bo┼Öitova, kde m┼»┼żete dohnat v┼íe, co jste na mikul├í┼ísk├Żch z├íbav├ích minul├Ż v├şkend nestihli :)

Shtefix | 08.12.2011 16:02
Kotvrdovice
Po tak┼Öka m─Ťs├ş─Źn├ş pauze jsme kr├ísn─Ť odpo─Źat├ş dorazili do Ko┼ąas. N─Ťjak├Ż ten p├ítek u┼ż jsme tam nehr├íli a to se jasn─Ť projevilo na ├║─Źasti, za kterou moc d─Ťkujeme! B─Ťhem ve─Źera jste mohli sly┼íet mnoho osv─Ťd─Źen├Żch fl├ík┼» a n─Ťkolik novinek, kter├ę jsme v posledn├ş dob─Ť secvi─Źili. Absolutn├ş novinkou na t├ęto akci byl song ┼árouby a matice od skupiny Mandrage, kter├Ż, jak ┼Ö├şk├í n├í┼í M├şra, hrajeme tady v okol├ş jako prvn├ş! Tro┼íi─Źka fotek u┼ż se nach├íz├ş v galerii, ale b─Ťhem dne┼ín├şho ve─Źera by se jich tam m─Ťla objevit hotov├í sklize┼ł, bu─Ćte trp─Ťliv├ş :)
Smutnou zpr├ívou je, ┼że z├íbava pl├ínovan├í na p┼Ö├ş┼ít├ş t├Żden v Drnovic├şch byla po┼Öadatelem bohu┼żel zru┼íena... nezb├Żv├í, ne┼ż se t─Ť┼íit na Mikul├í┼ískou z├íbavu v Bo┼Öitov─Ť.

Shtefix | 06.11.2011 18:06
Konec zvonec
Je to tak, pr├ízdniny u┼ż definitivn─Ť skon─Źily i fl├ík├í─Ź┼»m z vysok├Żch ┼íkol. ─îochov├í sez├│na pro n├ís p┼Öesto je┼ít─Ť zcela nekon─Ź├ş. V nejbli┼ż┼í├ş dob─Ť odehrajeme tak┼Öka tradi─Źn├ş hodovou z├íbavu v Olomu─Źanech a o ─Źtrn├íct dn├ş pozd─Ťji je┼ít─Ť jednu firemn├ş akci v Blansku a klasickou z├íbavu v Drnovic├şch (t─Ťch u Lysic). Pak si od sebe po n─Ťkolika m─Ťs├şc├şch spole─Źn─Ť tr├íven├Żch v├şkend┼» odpo─Źneme, ale o to v├şc se ur─Źit─Ť budeme v┼íichni t─Ť┼íit na rychle se bl├ş┼ż├şc├ş Mikul├í┼ískou z├íbavu, plesovou sez├│nu a ostatn─Ť i v┼íechny akce, kter├ę se v pr┼»b─Ťhu podzimu je┼ít─Ť vyvrb├ş!
Pokud si n─Ťkdo zat├şm nev┼íiml fotoreport┼» z na┼íich posledn├şch akc├ş, v galerii se objevil div├ícky skromn├Ż Spe┼íov a vz├íp─Ťt├ş sn├şmkov─Ť skromn─Ťj┼í├ş Horn├ş Po┼Ö├ş─Ź├ş. Kdyby se n├íhodou na┼íla dobr├í du┼íe s fotkami z Klepa─Źova nebo dokonce P┼Ö├şvratu, budeme za n─Ť neskonale vd─Ť─Źn├ş.

Shtefix | 21.09.2011 00:20
Bo┼Öitov, P┼»lmaraton Moravsk├Żm Krasem
V sobotu jsme odehr├íli standardn─Ť kvalitn├ş ─Źoch v Bo┼Öitov─Ť a v ned─Ťli nestandardn├ş a o to zaj├şmav─Ťj┼í├ş akci na N├ím─Ťst├ş Republiky v Blansku. Fotky z Bo┼Öitova, za kter├ę z ─Ź├ísti d─Ťkujeme V┼Ö├şskotence, u┼ż tr┼»n├ş v galerii. Na p┼»lmaratonu byla spousta zaj├şmav─Ťj┼í├şch v─Ťc├ş k focen├ş, zejm├ęna vystoupen├ş Kamila St┼Öihavky, p┼Öesto alespo┼ł pro p┼Öedstavu m├íme jednu fote─Źku a dv─Ť videa na┼í├ş produkce - Exploze sn┼» a Variace na renesan─Źn├ş t├ęma.
Shtefix | 06.09.2011 18:35